7 Fitness, Wellness, & Nutrition Podcasts You Need To Hear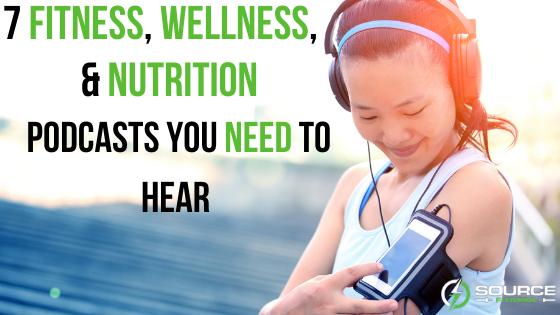 Must-Listen Health Podcasts
Diet Starts Tomorrow
If you prefer a "no-bs" approach to weight loss, then this podcast is for you. Topics of discussion range from "How To Drink On A Diet" to "There's No Pleasure Without Pasta" from the perspective of real, honest women who have battled with their weight throughout their lives. Aleen Kuperman and Samantha Fishbein recant their own weight loss journeys, diving into fitness routines that aligned with their 9-to-5s, refraining from the gluttonous essence of cocktails, treats, and paradise on vacation, to behind closed doors of the "wellness" culture that is marketed on Instagram, and more.
Listen on SoundCloud or follow on Instagram @dietstartstomorrow
Nutrition Diva
Fake news? No worries here thanks to registered dietitian and professionally-trained chef, Monica Reinagel. This weekly podcast separates fact from fiction regarding food intake and is regularly featured on the TODAY show, Dr. Oz, CBS News, Morning Edition, and in a variety of notable nationwide publications. Each episode is only 10 minutes long, enabling you to digest expert advice in no time so that you can kickstart your journey to making more-informed choices when choosing your next meal.
Listen on SoundCloud or follow on Instagram @thenutritiondiva
Marathon Training Academy 
Are you looking to run a marathon any time soon? Pair up with marathoner and registered nurse Angie as she delivers her experience to help you go the extra mile. Join Angie on her nostalgic excursions of previous marathons, injury stories, and more to prepare yourself to take it to the next level.
Listen on Stitcher or follow on Instagram @marathonacademy
MindPump: Raw Fitness Truth
Described as "Howard Stern meets fitness," another raw podcast for those who like to keep it frank and realistic. With a combination of over 40 years of experience as personal trainers, fitness competitors, and thought leaders, Sal Di Stefano, Adam Schafer and Justin Andrews are guaranteed to pack a punch of realness in the fitness realm, often decoding the "latest and greatest" workout programs, supplements, and the science behind them. 
Listen on SoundCloud or follow on Instagram @mindpumpmedia
Strength & Scotch
If you're interested in having a few drinks and delving into various topics surrounding nutrition, paleo, intermittent fasting, crossfit, weight loss, and building muscle through strength training, then Grant and Coach Heavey can lead the way. This weekly podcast showcases topics such as "Walking for Fat Loss" and "Soreness Vs Pain – What's Ok and What's Not?"
Listen on SoundCloud or follow on Instagram @strength_and_scotch
20 Minute Fitness
Stay informed with 20 Minute Fitness so that you know which cycling class is best for you the next time you are debating between Flywheel, SoulCycle or Peloton, or simply just tag along for the latest advice in nutrition, health, and weight loss tips. Learn crucial information ranging from how sleep affects weight loss and nutrition to trying Cryotherapy. You are guaranteed to boost your endurance in just 20 minutes. 
The Fat-Burning Man
20 pounds in 40 days? Yep, this is a true story for Abel James after firing his doctor upon years of frustration, sickness, and flab. He shunned the experts and decided to perform his own research and found his truth. Now he lives it and wants to share it with you in his #1 award-winning Rated Fat-Burning Man Show. Last but certainly not least, tune in with Abel to learn how to be lean, healthy, and energetic in an honest, fun, and lifelong fashion. 
Download from iTunes or follow on Instagram @fatburningman
---